Offshore Architecture Project
GREEN
OCEAN
Green Ocean is a floating farm that utilizes the upper and lower levels of the ocean. The upper level will be used for high-performance vegetable cultivation through seawater agriculture technology, while the lower level will be used for research and development aimed at soil improvement and simultaneous cultivation of multiple varieties of fish.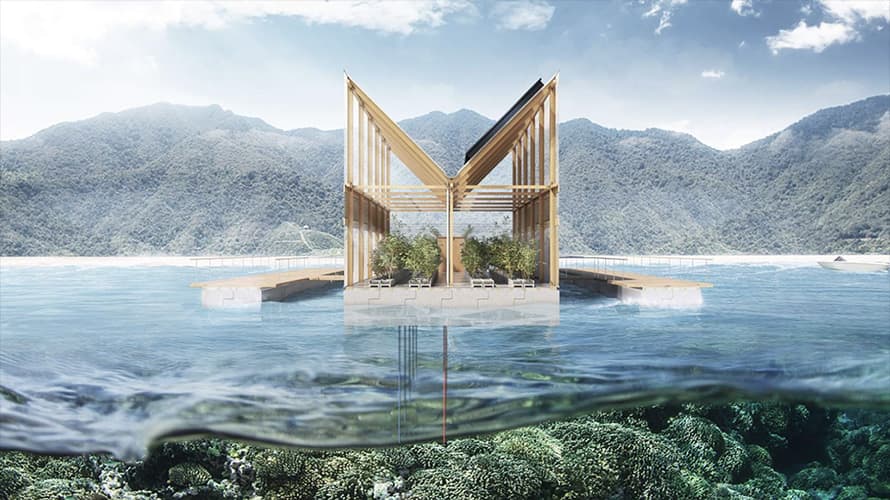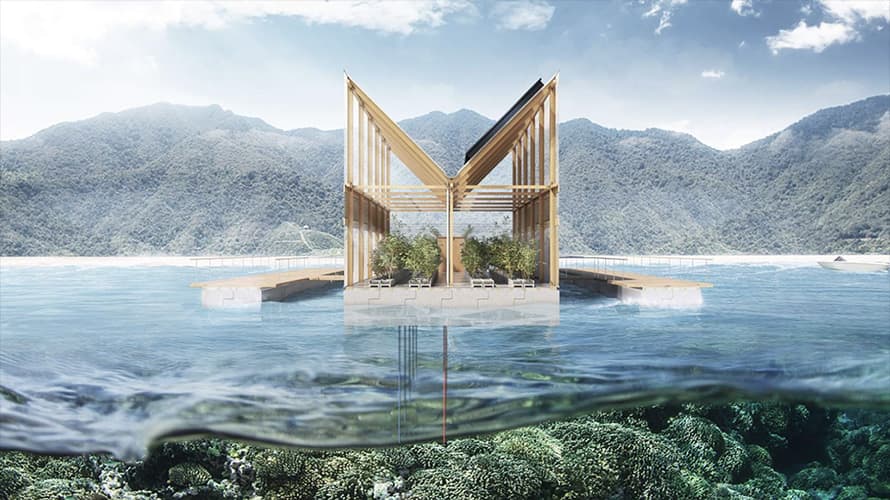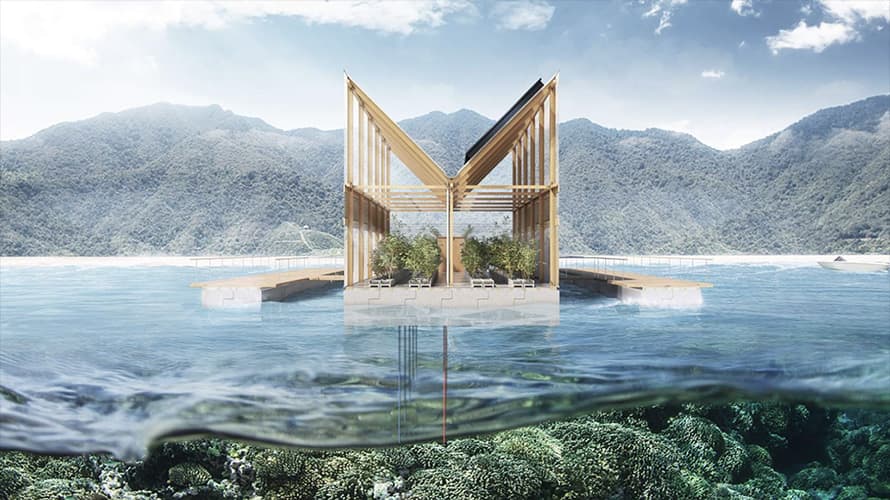 Three Elements of
Green Ocean
Floating Architecture
Architecture that
utilizes the ocean
Green Ocean utilizes lightweight, low environmental impact building materials and renewable energy to enable offshore agriculture and aquaculture complexes. Intended for installation in urban coastal areas, the project aims to create a supply chain that can share fresh vegetables with consumers in urban proximity.
Green Ocean's distinctive roof shape is designed to capture rainwater efficiently. Rainwater is mixed with seawater to adjust ph and exlution rate, which serves as fertilizer for seawater agriculture. The indoor temperature is a cyclical construction that utilizes cold seawater with stable temperatures as air conditioning for the farm.
Seawater Agriculture
Seawater Agriculture

:


ConvertingSeawater




into Nutrients.
After about a year and a half of demonstration testing of seawater agriculture, in which seawater is used as a nutrient source, we have succeeded in growing kaiware daikon radish, tomatoes, and lettuce. Development continues with the aim of supplementing nutrients that are lacking in above-ground crops, as well as for agricultural use in salt-affected areas that continue to expand around the world.
1. Low-cost cultivation technology that can be applied by anyone in the world
2. Sustainable agriculture that uses nutrients from the sea as much as possible and does not pollute the sea.
3. Stable production even in degraded lands, preventing new deforestation
4. Protecting producers and their livelihoods from the enormous damage caused by salt damage.
Alkaline seawater is mixed with acidic rainwater to neutralize it

By growing various types of roots according to the variety, the water and nutrients in the ground and in the air can be absorbed.

The result is a functional vegetable that can utilize the minerals and nutrients contained in seawater.
Tomatoes grown in seawater agriculture were found to exceed the criteria for "improvement of sleep quality," the highest of the criteria for GABA functionality labeling, per 100g.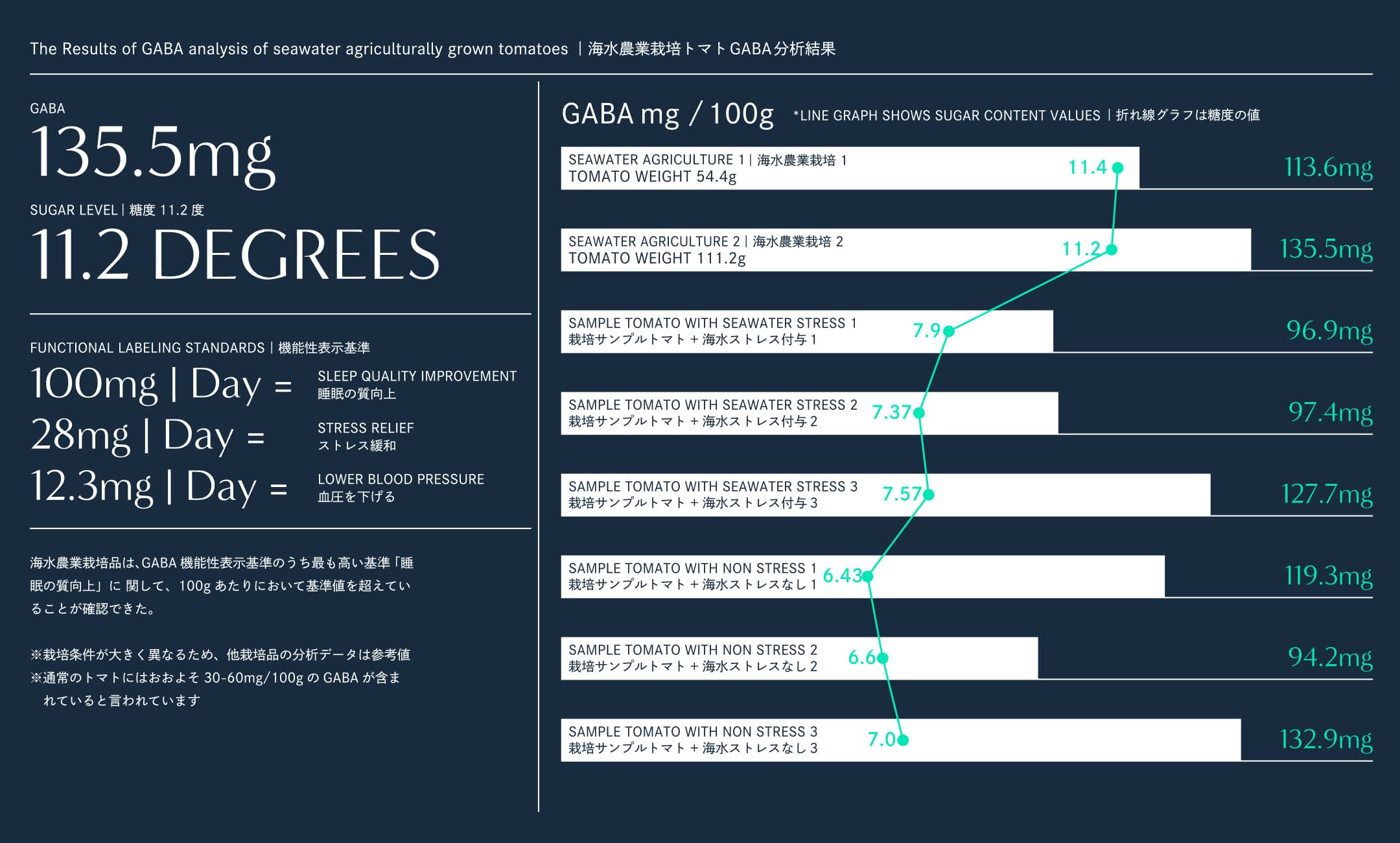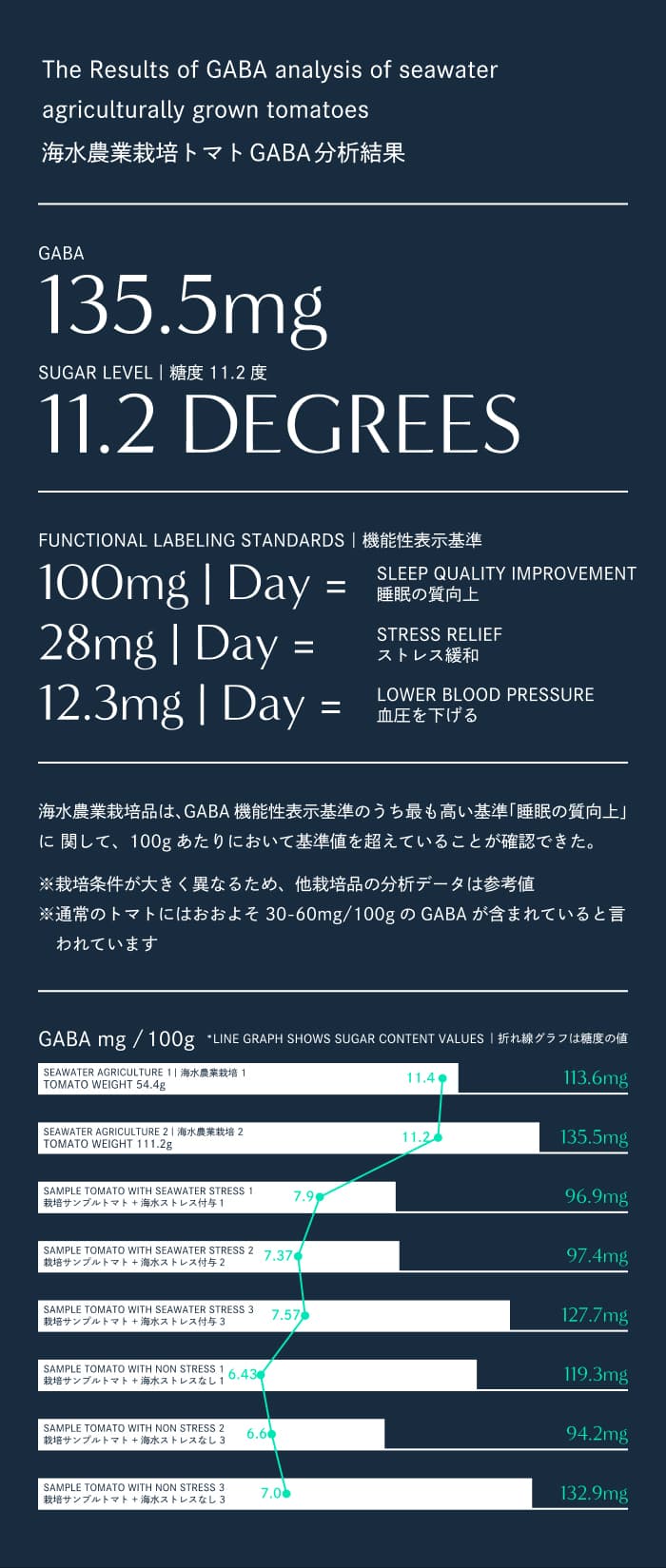 As part of R&D under the Green Ocean, we will conduct research on improving sludge in the marine environment in cooperation with Innoqua, an environment startup, and on complex aquaculture of species that are no longer available in Lake Hamana.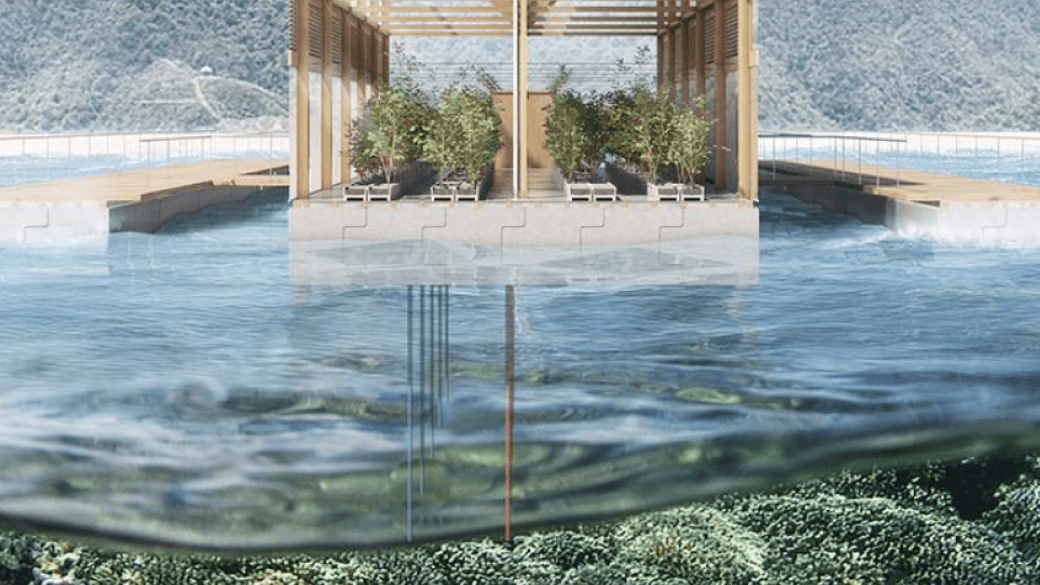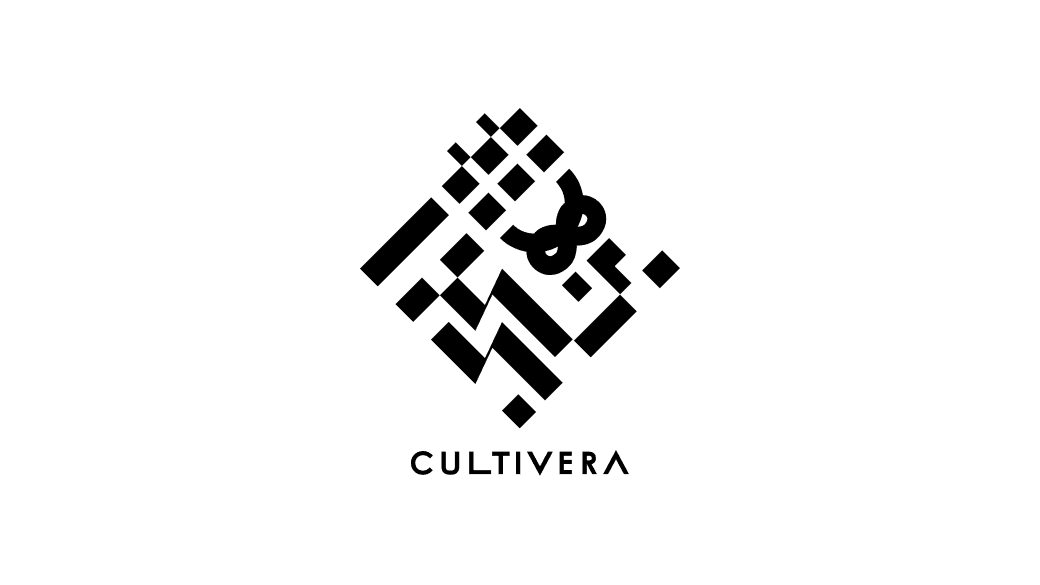 Cultivera
Agri-Tech R&D company of Shohei Toyonaga, which operates Pomona Farm, a 10,000 square meter agricultural corporation in Taki Town, Mie Prefecture. The company is responsible for seawater agriculture technology and crop type development.
https://pomonafarm.jp/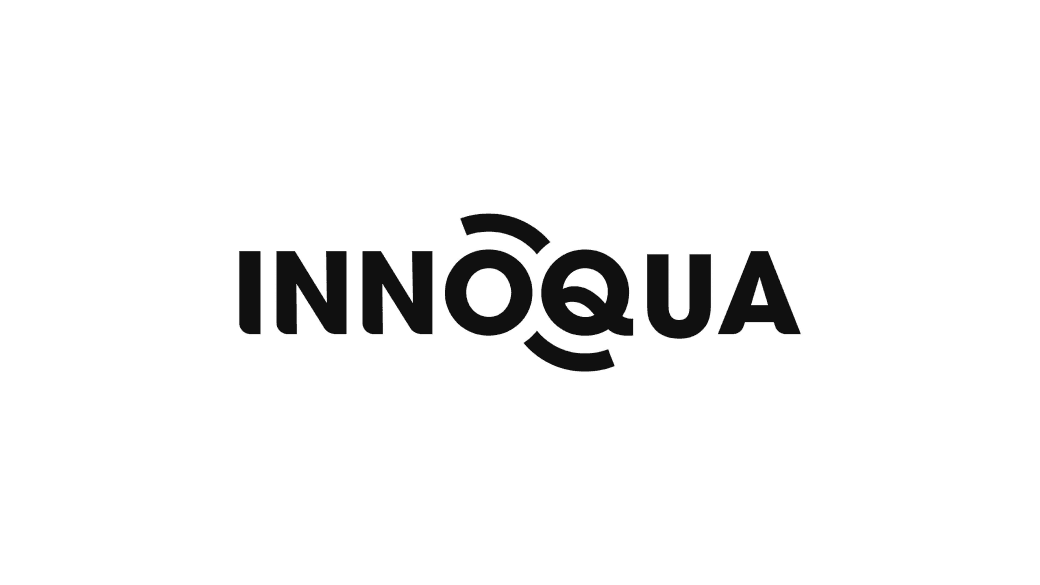 INNOQUA
With a vision of "creating a world where people and nature coexist in harmony," Innoqua is a startup company founded in 2019 by an aquarist (a breeder of aquatic organisms) with Japan's leading coral breeding technology and an engineer who was conducting AI research at the University of Tokyo. With the mission of "visualizing the ocean," the company is promoting research and development of "environmental transfer technology" that reproduces an arbitrary ecosystem in an aquarium by combining the power of people who love nature and conduct breeding research based on their curiosity with IoT and AI technologies. In February 2022, we succeeded in the world's first artificial spawning experiment of corals.
https://corp.innoqua.jp/